FAMILY OWNED & OPERATED
ABOUT US
Sparkle Chandelier Corp., is a family owned and operated small business located in Mount Kisco, New York. Sparkle Chandelier Corp. services both residential and commercial clients in the New York Tri-State Area. On a daily basis, we have our work teams in Manhattan, Westchester, Connecticut, Long Island and New Jersey.
Over the years, our business of on-site chandelier cleaning, installations, repairs and restorations has grown, but Sparkle Chandelier Corp. continues to provide superior service, an exceptional eye for detail and a professionalism unmatched by other companies.
We recognize that many crystal chandeliers and light fixtures are not being maintained or properly cleaned, and therefore not showing off their true brilliance. Our chandelier cleaning specialists can tackle any project, big or small. Along with chandelier cleaning and installation, we also offer other chandelier and lighting services such as assembly, unpacking, packing and minor repairs.
"We take great pride in leaving a sparkling result each and every time."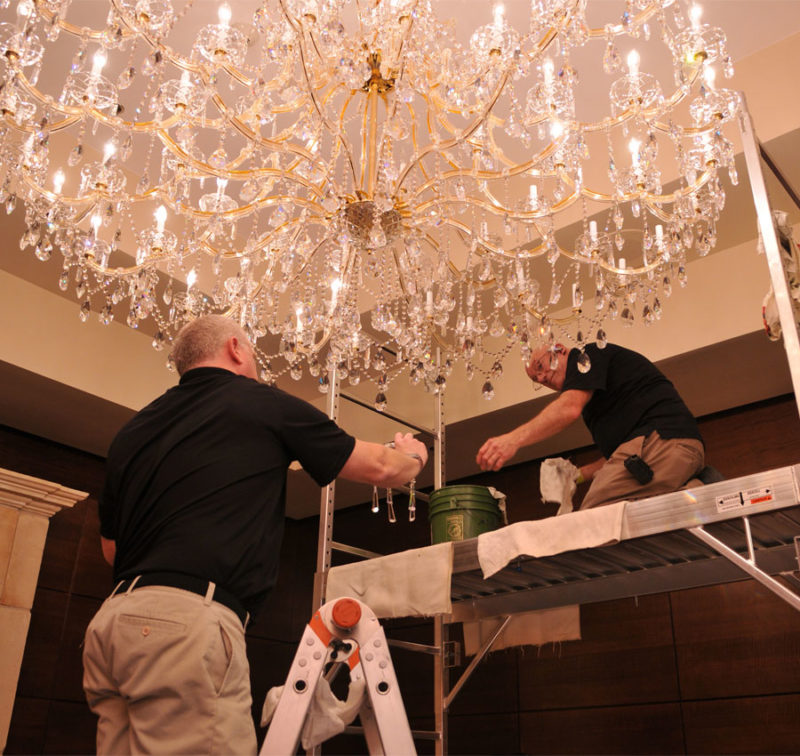 "Brian and staff came to clean my chandelier a few weeks ago. My chandelier does indeed sparkle so the name of their company is definitely appropriate. They are very professional and work meticulously. Their prices are reasonable and the caliber of their work is excellent. I would definitely recommend them to anyone who is interested in getting their chandelier cleaned."
Your Technician John was a delight. He knows everything about chandeliers! He took meticulous care in the service of my chandelier and gave it a great cleaning. I am very satisfied with my experience with Sparkle Chandelier."
"I am fastidious about keeping our home clean and don't even allow shoes in the house. I knew my chandeliers needed cleaning following some painting and tile work. Sparkle Chandelier did a detailed cleaning that restored them to new condition, even the light bulbs. While they were here, I decided to get a number of other chandeliers and scones cleaned. They were radiant when Sparkle was done, I had no idea how brilliant they could be!
Sparkle Chandelier were careful with my furniture, accessories and respectful of my time and being in the house. I highly recommend their service!"
I found Sparkle Chandelier online, , and it turned out to be one of those lucky finds: excellent, punctual, cordial, pleasant service, fair price, and superb work. You assembled a brand new Dining Room Chandelier, and made two antique ones to look sparkling new, with cleaning, adding pieces and leveling them, and all of it in one day. You guys are the best, and I would recommend you in a heartbeat. Thank you.
My husband and I are very pleased with the way our crystal dinning room chandelier came out. The professional cleaning job you did brought back the beautiful shine and glimmer as if it was brand new! Not only were we pleased with the end result – we were very happy with the professional manner in which you conduct your business and the friendly and personable service. I have already recommended your company to family and friends and will most definitely be using your services again. Thank you!
Thank you for the awesome job you did on my chandeliers. They look as if they were installed brand new!! They truly sparkle!
I am so happy with the job that you did on my Schonbek chandelier. It is even more spectacular looking than the day I brought it home 10 years ago. I used to clean it myself but after seeing the kind of job you do and the time in which your guys took to clean it, I will never do it myself again! They took apart and cleaned every crystal on it by hand. There are forty lights that you also replaced for me giving me a piece of mind that I wont be seeing a light out for a while. Thank you so much for the care that you took in making my beautiful chandelier sparkle!
Thank you for a very professional job cleaning my large antique Empire chandelier. I have had it cleaned by others over the years but never with such care and superior result. As an interior designer for over 30 years in New York City, I know the best when I deal with them. Your service is in that category.
We're loving our clean and beautiful chandelier and will recommend you to friends!
It was a real treat to have my chandelier cleaned professionally. I could never have cleaned it in the way Sparkle Chandelier did it. It sparkles brighter than the day I bought it. The crystal sparkles so that it looks like I have rainbows bouncing off of my dining room walls.
The careful process Sparkle Chandelier dedicated to cleaning each crystal brought out their true beauty and now my entrance hallway chandelier sparkles better than the day I bought it! Sparkle Chandelier is a dedicated and professional family run business whose expert care won't disappoint!!!
You guys did a terrific job! I didn't realize you could get my fixtures that clean. I intend to let all my friends know about your service.
Professional Chandelier Services
We provide chandelier cleaning services for commercial and residential clientele in New York City, Long Island, Westchester County and Connecticut.
BOOK AN APPOINTMENT